FRANCIE RANDOLPH
  is a visual artist whose work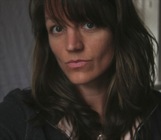 combines digital technologies with traditional painting, photographic and printmaking techniques. Randolph's work is included in museum, corporate, and private collections in the U.S. and abroad. Her series, primarily focused on patterns in nature and biological life cycles, have been exhibited internationally.

Randolph is the recipient of multiple grants and awards, including those from the Massachusetts Cultural Council, Copley Society, Harvard University and the Contemporary Artist's Center. She has created commissioned work for the John F. Kennedy Library and Museum, the Peabody Essex Museum, Harvard University, and Teach for America, among others. Her work has been featured and reviewed in books, international art publications and a variety of periodicals including Print Magazine, The Boston Globe Sunday Magazine and The New York Times. Her biography has been published in Who's Who in America, Who's Who of American Women and Who's Who in the World.

AFTER RECEIVING a degree in Visual and Environmental Studies from Harvard University, Randolph traveled through Papua New Guinea on a Radcliffe grant to explore the interrelationship between culture and village arts. She began her career in Sydney, Australia and later returned to the United States where she taught in Harvard's Visual and Environmental Studies Department for seven years and received an EdM in Visual Arts and Technology from Harvard University's Graduate School of Education.

Randolph lives with her husband, artist Tom Watson, and their two children in an eighteenth-century farmhouse. Two sheep, a dozen ducks and several Buff Orpington hens roam the property surrounding the timber-frame barn which serves as their studios in Truro, Massachusetts.

Francie Randolph is currently represented by Patricia Miranda Fine Arts in New York and by the DNA Gallery in Provincetown, Massachusetts.